Occupational Health and Safety Managment Award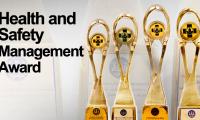 Granted by Department of Labour Protection and Welfare, Ministry of Labour. Number of establishments that receive annual in 2553 was 488. Number of Thai establishments receiving seven consecutive years is 36.
To promote the place of business. The administrative and operational safety, occupational health and working environment in accordance with internationally standardized and consistent with legal requirements. And honored to employers. Establishments. And a model for other business establishments to the assessment criteria are divided into four categories namely:
policies and management of occupational health and safety conditions at work.
and protect the safety management work.
the management and protection of health.
to manage and supervise the work environment.