Establishment of Labor Welfare Award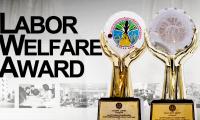 Granted by the Ministry of Labour and Samut Sakhon Province, Department of Health.
Department of Health has recognized the public health. For public health in both physical and mental integrity is essential for everyone. Attention to age-appropriate care also requires to live in a healthy environment to work in the environment favorable to health.
Department of Health's Health Promotion Project has been working population in the workplace. The objective is to build networks and develop leaders in workplace health promotion organizeing a meeting to share learning and performance in workplace health promotion. This is a forum for those responsible for the health center, provincial health office. Hospital operators have the opportunity to meet and exchange experience network health promotion in the workplace and shall have the honor to the establishment of organizational units that successful health promotion operations and benefit the interest or other organizations.