NSF Guidelines for Proprietary Substances and  Nonfood Compound Compliances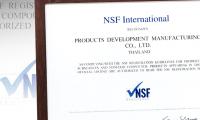 PDM foodgrade lubricants are listed by NSF International who are the recognised authority for registering formulations to ensure the integrity and suitability of lubricants used in food production.
NSF International functions as follows:
NSF registration is a voluntary program available to lubricant marketers to protect public health.
NSF reviews company registrations and if they meet their guidelines and all product components of a formulation meet foodgrade criteria then they are officially listed on their "white book" which can be viewed on the NSF internet site.
NSF has two classifications for lubricants (a) H1 where there is a very small possibility of food being contaminated by lubricant and (b) H2 where there is no possibility of the lubricant contacting food.
The NSF H1 logo (followed by the registration number) on the packaging labels indicates that the product has been registered with the NSF and that it maybe used in relevant foodgrade lubricant applications.
Registrations are reviewed annually and any changes to formulations must be notified.